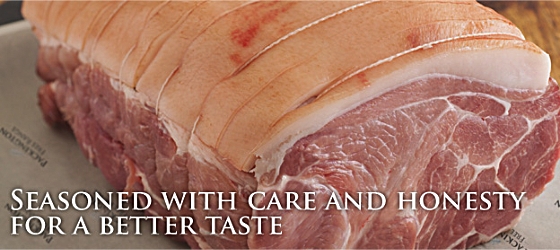 Roast Rolled Shoulder of Pork With Mustard & Cider Gravy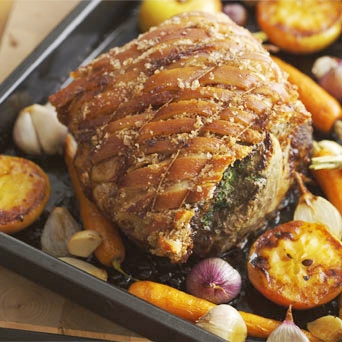 1 x 2.25kg Free Range Rolled Shoulder of Pork
1 bulb of garlic, cloves peeled
100g baby spinach leaves sprigs fresh thyme leaves sprigs sage leaves
25g focaccia breadcrumbs sea salt cider vinegar
20 or 400g shallots
12 small whole carrots with stalks
1 tbsp soft brown sugar
3 apples, halved
400ml vintage cider
2 tbsp whole grain mustard
Preparation Method: –
1. Remove the pork from the fridge 2 hours before cooking to allow to come to room temperature. Discard any packing and cover with a clean tea towel. Preheat the oven to 190 C/Gas Mark 5.
2. Crush 2 cloves of the garlic and place in a food processor or liquidiser with the spinach, thyme and sage and blend until roughly chopped and well combined. Stir in the breadcrumbs and seasoning. Push the mixture into the meat.
3. Place in a large enough roasting tin to hold the meat and vegetables. Check the skin has been scored, if not, using a sharp knife score the skin all over. Rub the salt and vinegar into the scored skin. Calculate cooking time allowing 25 minutes per 450g/1lb plus 25 minutes and roast.
4. Meanwhile peel the shallots and wash the carrots. Remove the pork from the oven 45 minutes before the end of cooking time, skim off most of the fat and then scatter the remaining garlic cloves, shallots and carrots around the pork. Sprinkle over sugar and continue roasting for a further 30 minutes. Add the apples and continue roasting until when the pork is pierced with a knife the juices run clear and apples are caramelised.
5. Remove the pork from the oven and transfer to a warm serving plate. Cover with foil and allow to rest for 20-30 minutes. Using a slotted spoon, transfer the vegetables and apples to a warm serving plate, leaving a few cloves of garlic to crush into the pan juices. Keep warm.
6. Skim most of the fat from the roasting pan and discard. Scrape the meat juices in the pan together and mash in the garlic. Place over a low heat and blend in the cider and mustard. Bring to the boil and continue boiling gently, stirring occasionally until reduced slightly. Season to taste. Serve the gravy with the pork and vegetables.
Why Free Range Pork?
Customers tell us they rely upon Lacey's Craft Butchers to source great tasting meat produced to the highest standards.
Our Free Range Pork is unquestionably a delicious taste.
Healthy happy pigs
Bred and kept outdoors
RSPCA Freedom Food accredited so you can be sure Packington pigs are produced to the highest of welfare standards
Antibiotic, growth promoter and additive free – natural meat with no water added
Rich in selenium