Barbecues – Look No Further!
Barbecues – Great Choice of Meat Suggestions: –
Burgers
Original Beef
Lamb & Mint
The Ultimate Barbecue Burgers
(as seen on TV)*
Speciality Barbecue Dishes
Chilli
Pork & Apple*
Piri Piri Chicken *
Sundried Tomatoes & Olives*
Caramalised Onion & Black Pepper*
You made up a barbeque order for me which I picked up last Friday. It was AMAZING. Everyone was so impressed with the quality and flavour of burgers and sausages. Brilliant! Thank you so much. Want to give you a freezer order for this weekend, can I do that by email?
Thank you so much Liza P."
More great BBQ choices: –
Spicy Meat Ball Kebabs
Piri Piri Chicken
Pepper Steak
Minted Lamb Chops
Caribbean Bombay Chicken
Lashfords Sausages
Pork & Chives
Huge choice see meat or call in for more details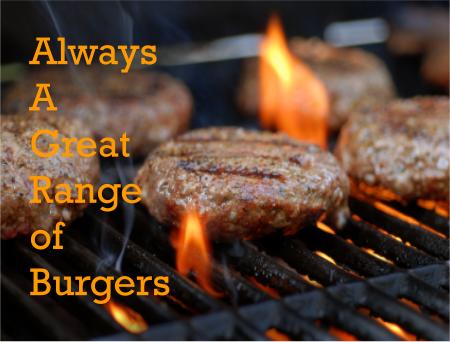 The shop door is always open (when we are open!), so we are well aware of the weather, and when it is barbecue time you can be sure that you will be able to find a great selection of meat to make your barbecue a great success.
Some varieties of burgers and items shown on this page are not available all the year round please do not hesitate to telephone if you have any specific requirements so we can advise on availability.